Innovative Learning Environment
It's about Effective Teaching and Learning
Innovative learning environments support strengths-based teaching. They offer students and teachers flexibility, openness, and access to resources. We have our spaces for our Year 5 and 6 and Year 7 and 8 students. What is very important to note is that these spaces are great but it's not just about the space it is all about the learning and placing the learner at the centre of what we do, this is where our learner qualities fit in, our learner qualities are called  He Pou Tainui. In these spaces you will see two or three teachers working collaboratively to meet the needs of each and every student.
---
He Pou Tainui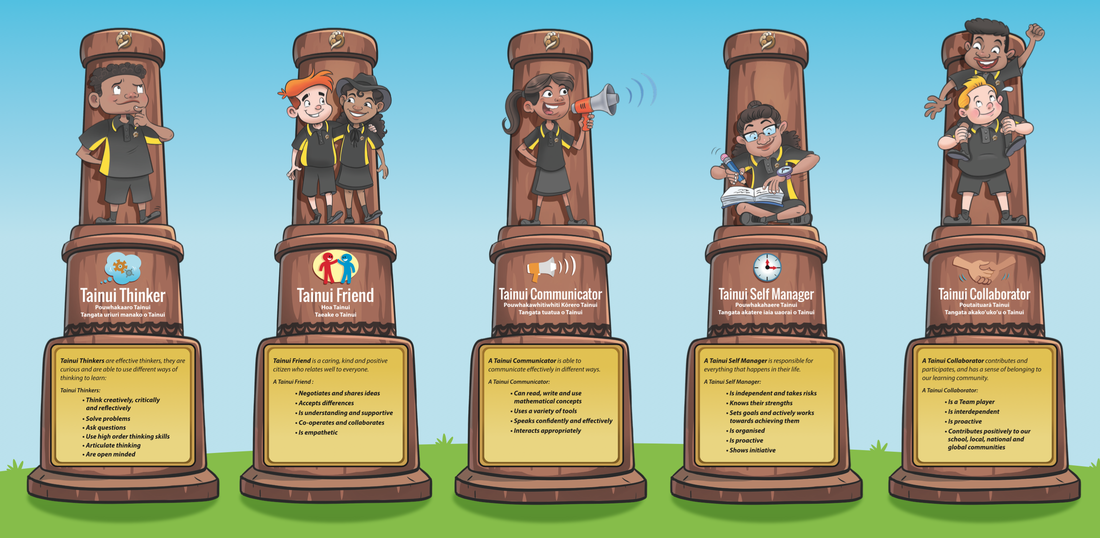 ​He Pou Tainui for the Tainui Learner
He Pou Tainui are not just for school but for life. The concept of the Tainui Pou comes from the Talking Poles that are erected around the Tokoroa area. They aim to depict the variety of cultures in the Tokoroa community. Our He Pou Tainui aim to depict the Tainui Learner and the key competencies our students need to develop and use to be a capable learner not only in school but for lifelong learning.  
---
OUR WHY?
At Tainui it is important that we know clearly why we do what we do for our amazing students.
What are our beliefs that inspire us to only give our best to all learners at our school.
Part of our why is to make sure that our learners are happy, safe and successful.
​They are at the heart of every thing we do!
How we go about this is always through thoroughly understanding what works best for our students and what evidence there is to help us to do this.
We encourage all parents/whānau to get involved and ask us what we are doing to make sure that your child is happy, safe and successful.
​Together we can make a difference.